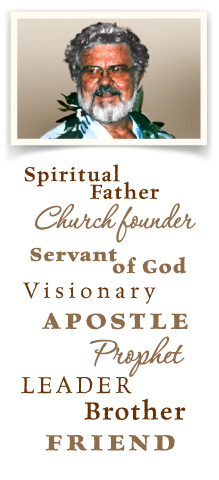 John Robert Stevens — A Man of God
There are many ways that John Robert Stevens is remembered today, but perhaps the core definition of his character is that he was a man of God.
He truly knew the Lord Jesus Christ; he had numerous experiences throughout his lifetime in which the Lord spoke to his heart and appeared to him.
He moved in miracles; the Lord healed the sick by his prayer.
He was a man of perception; he laid hands on many and spoke to them by the Holy Spirit about their destiny in God.
He was an eternal student of the Scriptures; he cherished the Bible and shared his love for its holy words.
He was an anointed, eloquent, and prolific teacher; he authored more than 11,000 messages in his lifetime.
Thousands of people experienced Stevens' ministry first-hand, and their lives were touched and transformed in very personal ways. Stevens moved in many anointed gifts, but he never lost his personal touch; the most common recollection of Stevens by those who knew him was the sense of the love of God that was imparted through his ministry.
Learn more about John Robert Stevens' life.
Learn more about John Robert Stevens' beliefs.